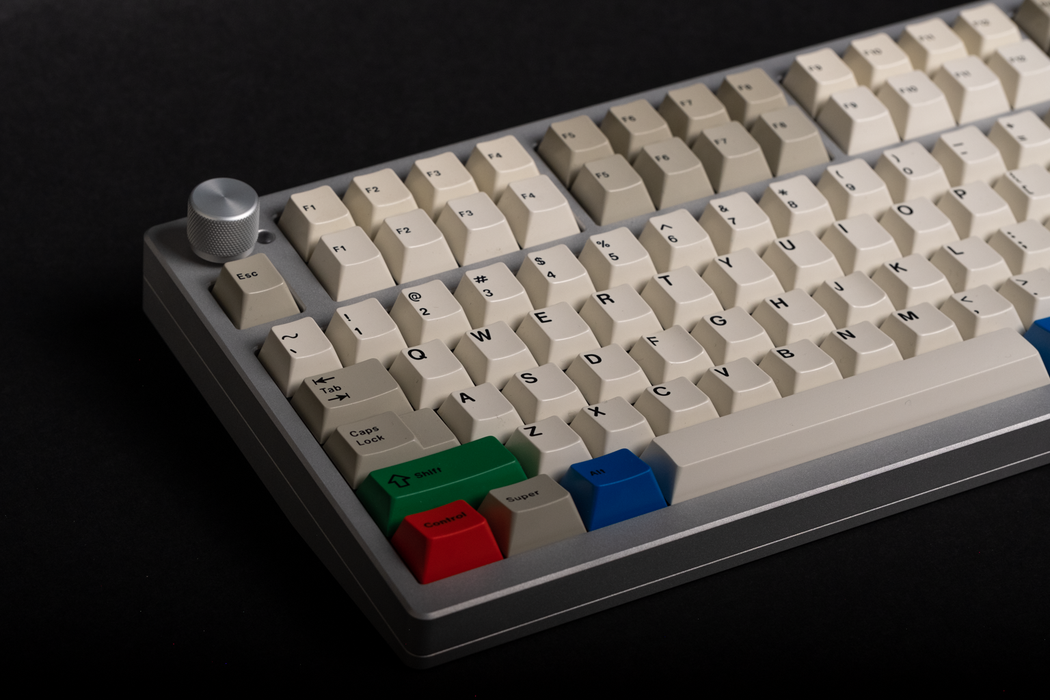 [GB] Aluminum Boston 120% Hotswap Keyboard Kit
Sold out
Original price
$600.58
-
Original price
$615.59
The group buy has been concluded! Thanks to all for participating.

Expected fulfillment in Q4 2023. This is a rather small group buy (~25 units) using highly respected CNC/PCB fabs, so I expect the timeline to be met with ease. All units include a Foam/zipper case for safe transporting.
Extra PCBs and plates can be purchased here, and will ship with this GB. To combine them with an existing order, please contact me via email (andy@rndkbd.com) or discord.
Please see the features tab for more information.
By purchasing the raw aluminum option, the customer confirms that they understand that this is raw metal, which may tarnish or blemish differently than an anodized part.
Features

Huge 120% layout (121-129 keys)
~3kg built
Lock LEDs and RGB layer indicator lights
Solder PCB and Hotswap PCB
Web-app remapping and encoder support with VIAL
USB-C with S1 daughterboard
Top mounted FR4 or Alu Plate
ALPS encoder and Aluminum knob included
Split space support
Important GB Information

Group buys are a common method of service and sales in the mechanical keyboard community.

Money is collected up front by the runner/vendor, then a bulk order is placed to the manufacturer once orders are closed.

The product(s) are then made/built/created and sent to the vendor (me!) for verification, QC, and final shipment to the group buy participants and proxies.

By ordering a group buy product on this website, you understand that there may be variances in the timeline or production of this product.

I agree to disclose all and any group-buy related issues on their respective GB threads on geekhack, Reddit, Discord etc.

For quickest access to support and updates, join my Discord server: https://discord.com/invite/vt2qU2cVqV

Once the group buy product order is placed, no cancellations or refunds will be allowed. 

Group buys involving limited quantities (keyboard kits, other limited editions) will have payments processed after the spots are filled. This saves me the headache of dealing with extra orders in case Shopify acts strangely during the buy.

By ordering a custom keyboard kit via group buy or in-stock purchase, all customers agree that there will be an acceptable variance/tolerance in anodization matching, finishing, and fitment as detailed below:

A-stock allows internal blemishes that cannot be seen when the keyboard is assembled or built. Very small color differences between top and bottom may be allowed at my discretion.

B-stock allows for small external blemishes that prevent the kit from being considered A-stock. There will be degrees of B-stock, and discounts will be applied to these products as deemed warranted.