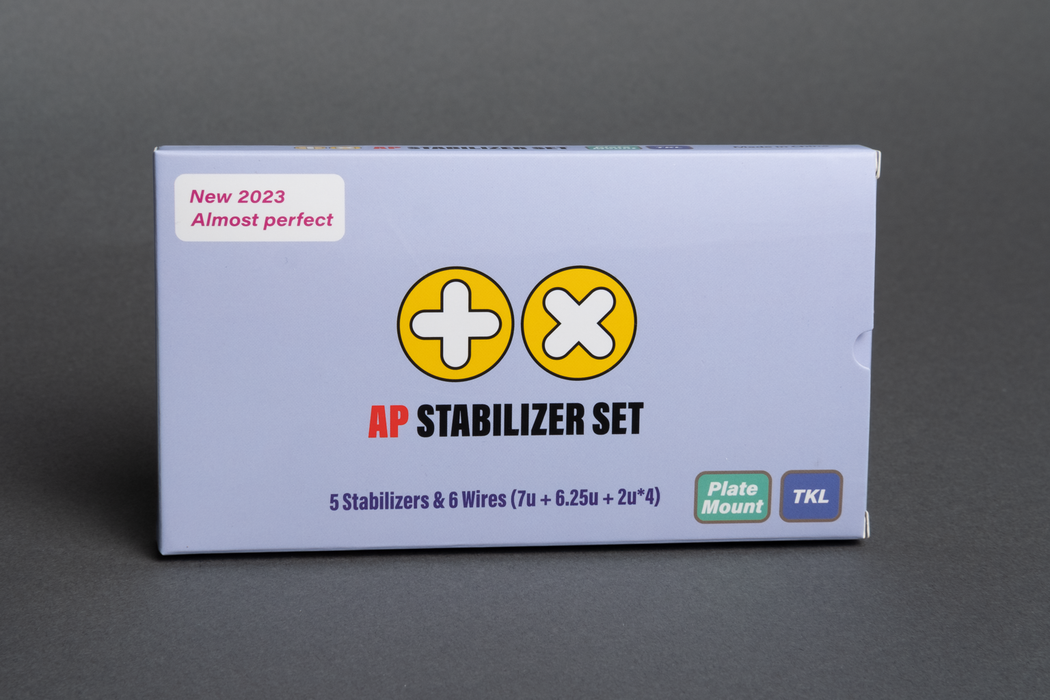 TX AP Plate Mount Stabilizer Kit
Original price
$7.50
-
Original price
$13.51
The newest iteration of TX's excellent stabs is the "AP" version, or "Almost Perfect". 
By making the housing thicker and rounder, you have less wobble and rattle and a better fit overall.
Speaking as a keyboard enthusiast, these are the best stabs you can get right now, I use them in all of my new builds, no exceptions.

Now comes with 6.25 and 7u wires for more compatibility.
Need PCB Mount stabilizers? See the TX AP PCB mount stabilizers here.
What's a Long-Pole stabilizer?

Long-Pole (LP) stabilizers exist to address the (minor) issue that arises when using long pole switches with standard stabilizers. Long pole switches have less than the standard (4.0 mm) travel distance, usually 3.5mm, and the premature bottoming out of the switch can create a teeter-totter effect with stabilizers that travel the full 4mm. This is fixed by having the LP stabilizers also travel only 3.5mm, so that they bottom out at the same time as the switch!
Features

Designed by kin25
Clip-In/Screw-In PCB mount Stabilizers
Doubleshot Stem
POM Outside
TPU & POM Inside
Stabilizer Stoppers prevent wire drop-out
Stainless 304 wires
What's Included?

TKL Kit includes:

10 Housings and Stems
4 2U Wires
1 6.25U AND 7U Wire
1 Pack Stab Stoppers (Clip-In)
1 Pack screws and washers (Screw-In)

3 x 2U Kit includes:

6 Housings and Stems
3 2U Wires
1 Pack Stab Stoppers (Clip-In)
1 Pack screws and washers (Screw-In)